Latest Updates Featuring Whitney Wright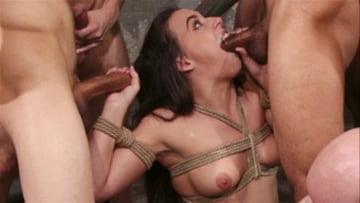 7th February
- Wearing a skimpy yellow tank top showing off most of her perfect petite natural tits and also sporting tight white stretch-pants over her round athlet
ic ass, Whitney Wright gets some help from her workout buddies to help with her form. When one thing leads to another, she ends up naked and tied up with rope on her knees, surrounded by five cocks, rock hard and ready to get sucked. They all take turns face fucking Whitney as she tries her best to pleasure them all. In the next scene the fellas tie her wrists to her ankles on her back with her legs spread wide open. They then proceed to take turns fucking her tight pussy with their dicks while she gets her mouth stuffed with more cocks. They flip her over into doggie and continue pounding her pussy one at a time, using her like a sex doll. Next they put her on her back again but this time they all take turns fucking her asshole. The biggest cocks are challenged by the tightness of her hole but with some lube and a good shove, they all get a turn inside. In the following scene, Whitney gets double penetrated in doggie while taking a throat full of cocks. They all rotate taking turns fucking her ass while her pussy is anchored to another dick. In the final scene, Whitney takes cocks in both holes again. She rides on top of a cock in her ass while the others fuck her pussy hard. When the guys are ready to blow their loads they tell her to get on her knees and they all simultaneously shoot five hot loads all over her face and with a big smile on her face she rubs all of their cum into her tits and the rest of her body.
...Read More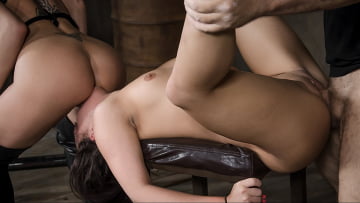 30th October
- Sitting atop her vibrating throne Whitney Wright awaits her fate. Matt's cock and Dee's giant strap-on. It's not long before her mouth is filled to ca
pacity. The tears stream down her beautiful face. Dee and Matt barely let her get a breath while they play their game of hide the cock in her throat.Most girls love taking it in doggy position. Matt and Dee don't make it easy though as they double team her. They each take an open hole and pound away. That sexy ass gets pounded while they pull her hair and use her mouth.There's no more wonderful place in the world than between the legs of a beautiful woman. Dee uses her pussy and ass to cover Whitney's face. Whitney knows exactly what to do. She laps at Dee like a good little girl. Matt fucks and vibrators Whitney like the whore she is.
...Read More